Ultrasonic Monkey Repeller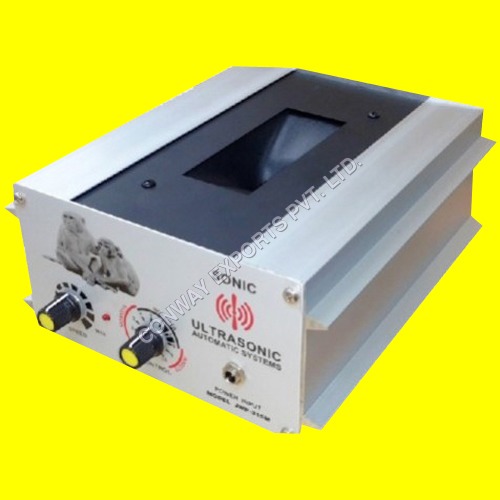 Ultrasonic Monkey Repeller
Product Description
We are a trusted manufacturer of Monkey Repeller to our highly honored clients. It is an effective product that helps in keeping monkeys away from the premises. It is precisely made using tested quality material and processed using advanced machinery at our unit in sync with the industrial prevailing standards and norms. Monkey Repeller has gained us high rising demands in both national as well as overseas markets for its high effectiveness, durability, easy installation and a long life span.
Feature:
This device automatically changed the frequency 1-60 times a second, assuring complete coverage of all the communication frequencies of Monkeys, rodents and many other pests and make them not get used to the ultrasonic waves.
It eliminates Monkeys by using electronic method which is more sanitary and economical than any other method used.
These remarkable units will not interfere with any electronic burglar alarms, fire or smoke detector, radio, TV reception or other electronic equipments.
It emitted the modulated frequencies which sweep automatically from 10 KHz to 65 KHz that repulses birds.
Operations:
Plug into electrical source.
Set theSWEEP SPEED dial at 1-10. A red light indicates the power is on.
Set theCONTROL knob to Monkey range this should effectively repels Monkey and other large wild animals. Use of Monkey range.
Installation:
It should be placed at least twenty feet above the ground or floor for best result.
Do not place it near to your ears before performing this check.
Order extra units if your plant or establishment is broken up with thick wall partitions which can inhibit transmission of sound. Order extra units if your plant has an open dock entry or exit-way where birds can gain access to premises.
Application:
The Monkey repeller Model JWP-315 are used for : houses, restaurants, supermarkets, schools, hospitals, granaries, warehouse, butcheries, bakeries, foods & beverage industries, feed producing mills, poultry farms, public institution, animal conservatories, agricultural store houses, flour mills, malt factories, sugar industries, art galleries rubbed industries, ships, dock ect.
Technical specification
| | | | | | |
| --- | --- | --- | --- | --- | --- |
| Model No. | Multiplex frequency | Sound pressure | Rates output | Effective Area | Dimension |
| JWP-315 | 10-65 KHz | 115 dB | 4 watts | 6,000 sq.ft. | 22x17.7x8.6cm |
Ultrasonic Frequency Response Table

1

10 KHz

Monkey Repelling Zone

2

14 KHz

3

18 KHz

4

20 KHz




25 KHz

5-9

25-5- KHz

Other pests

10

65 KHz
Contact Us
X-60/61, Okhla Industrial Area, Phase-II, New Delhi, Delhi, 110020, India
Phone :+918045479815