Bird / Monkey / Animal Scare Cannon Gun Model KBS E1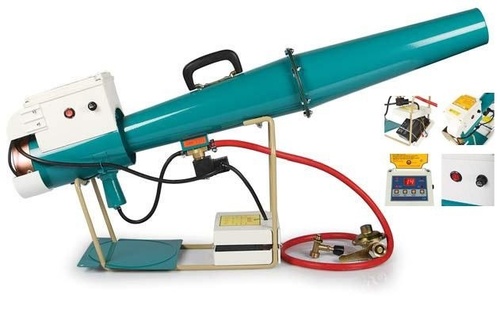 Bird / Monkey / Animal Scare Cannon Gun Model KBS E1
Product Description
Bird / Monkey / Animal Scare Cannon Gun Model KBS E1 is a gas-powered device that is designed to scare the animals for the safety of good in stores, farms, and other places. It is highly demanding and popular among our customers due to its easy use and large coverage area. The sturdy mild steel frame provides high durability and stability. Bird / Monkey / Animal Scare Cannon Gun Model KBS E1 availed by us is capable to operate efficiently within a temperature range of 8 to 40 degrees Celsius.
USAGE AREA
All types of agriculture farms and plantation to repell Wild animals.

Also applicable in Vineyards, Fish Lakes and Airports etc.
4,000 m2 (44,000 sq.ft.) protection area.
TECHNICAL CHARACTERISTICS
Operates with small or big LPG cylinders /Battery 12V as well.

119 dB noise level / Night & Day all time photocell.

Digital time adjustable in between 2 & 24 minutes.

Random and repeat shots. Operates without recoil.

Operates at rainy and wetty weathers.

Portable sealed type battery and battery charger.

The machine is working 20 days after recharge of the batteries.
GENERAL MAINTENANCE
No periodical maintenance of your device apart from recharge of the battery.

Do not hang the device on the tree. Place it on flat surface. If the weather is windy, the device should be directed so that the wind flows behind the device.

Do not cover anything on the device. It works under bad weather conditions.
HOW TO RUN
Adjust fine-adjusting valve.

Connect fine adjusting valve to LPG cylinder/ Battery 12V.

Place the device on a flat surface.

Set fine-adjusting valve position to 0. If safety key is at closed position, turn it to open position. To initiate the device, open fine adjusting valve gradually and set its position to 2 just when the bellow raises the mechanism and wait for 2-3 minutes to see the first shot.You can set fine adjusting valve to any position once the device started.

Leave the device in the field to run until LPG cylinder gets empty.

If you want to stop before LPG gets empty, just turn of adjusting valve, turn the safety key off and remove the connection with LPG.
Technical Specifications

Protection Area

4,000 m2 (44,000 sq.ft.)

Sound Level

119 db

Consumption

10000 shots with 5 kg LPG cylinder

Time adjustment

Between 2 & 24 minutes and random shots

Size

18x68x45.5 cm (W x L x H)

Weight

9 Kg

Operating Temp.

Between 8c and 40 Degree

Battery

12V 7AH
Contact Us
X-60/61, Okhla Industrial Area, Phase-II, New Delhi, Delhi, 110020, India
Phone :08045479815