Snake Repeller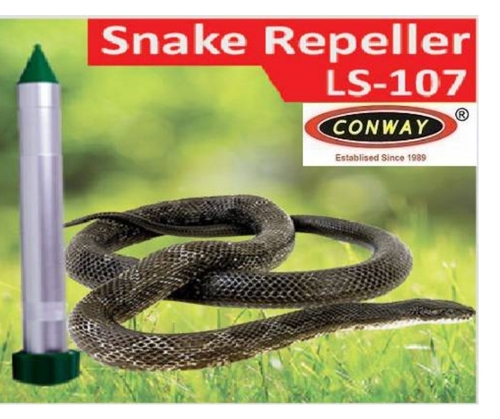 Snake Repeller
Product Description
Product Details:
| | |
| --- | --- |
| Brand | Est. Since 1989 |
| Usage/Application | All types of snakes |
| Size | 41.5 x 6.5 cm |
| Weight | 370 grams without battery |
| Voltage | 1.5V (4 x D extent battery) |
| Length of Interim | 15 - 75 seconds haphazardly |
| Length of Sound Vibration | 1.5 to 3.5 seconds haphazardly |
| Powerful range | In 300 sq.meters unhindered |
Attributable to our rich mechanical experience, our Sonic Vibrarandom Snake Repeller is known to frighten winds off from where it is introduced. It is fittingly made utilizing most extreme quality material and first rate apparatus at our unit according to the predominant modern standards. This chaser experiences quality tests to ensure its quality, adequacy, strength, unwavering quality and safe bundling.
Snakes have exceptionally poor visual perception and these can't perceive sound sonic waves conveyed by the air. Therefore, to make up, these can detect vibrations transmit from base through their cheeks as a flag of peril.Subsequently, utilizing the dynamic sound could be a functional and successful approach to frighten winds off from a specific region. The exceptionally advantageous and recently created electronic sonic vibrarandom snake chaser helps in driving snake and allied creatures out of property.
Features:

Helpful: 4 pcs. D estimate soluble battery operation
Power proficiency: An arrangement of battery gives a year, 24 hour persistent full assurance
Constant working: All hours of day
Zero handling, water safe and simple installation
Technical Specifications
Dimensions: 41.5cm (L) x 6.5cm (Diameter)
Weight: 370 grams w/o battery
Power supply: 1.5V (4 x D size battery)
Duration of Interval: 15 - 75 seconds randomly
Duration of Sound Vibration: 1.5, 3.5 seconds randomly
Additional Information:
Frequently Asked Questions:




1. Do vibrating snake repellents work?

Ans. No. From all available records and proof, snake repellents do not work in any respect. Do not buy them; it's a waste of money and may be risky.




2. Do sonic waves repel snakes?

Ans. Snake repellents use either fragrance or ultrasonic soundwaves that irritate or confuse the senses to keep snakes out of the region.




3. What is a vibration remedy for snakes?

Ans. The snakes therapeutic vibrations relax muscle tissues and stimulate proprioceptive senses (that is, in particular, beneficial for those who are sensory searching for). Vibrating snake is colorful, flexible, battery-operated and transportable, so you can take it wherever you move!
Contact Us
X-60/61, Okhla Industrial Area, Phase-II, New Delhi, Delhi, 110020, India
Phone :+918045479815